Suspension démocratique.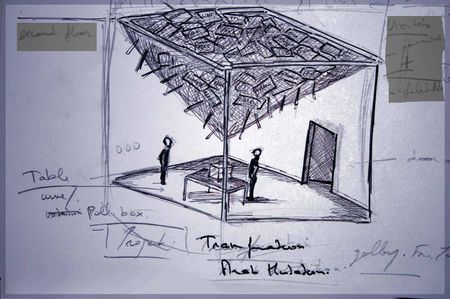 Installation Project (Arab Mutation) , February 2011
In this installation project (picture above), a large net suspended on the sp;ceiling area or hopper, contains within placards and signs from various events in the Arab world.
On the ground, a simple table on which there is a ballot box.
The impression of a will, energy contained waiting for political change must be felt by the tension exerted by the weight of signs in a net ready to crack. The question considered by this installation is the outcome of this expectation that if not satisfied or encouraged may lead to disaster.
Arab mutation (projet-concept d'Effer Lecébé ), février 2011
Dans ce projet d'installation ( dessin ci-dessus) un large filet suspendu sur toute la superficie
du plafond ou d'une trémie,contient en son sein des pancartes et des écriteaux provenant
des différentes manifestations dans le monde arabe. Au sol, une simple table sur laquelle se trouve une urne.
L'impression d'une volonté, d'iune energie contenue attendant une transformation politique
doit être ressentie par la tension exercée par le poids des pancartes dans un filet prêt à craquer .
La question que pose cette installation est l'issue réservée à cette attente qui s'il n'est pas satisfaite
ou encouragée peut donner lieu à une catastrophe.