Suspension démocratique, Installation d' E.Lecébé, février 2011, Centre d'art contemporain , salle Louis Geoffroy, Paris.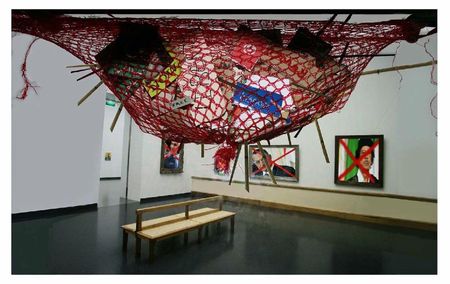 Dans les pays arabes, Tunisie, Egypte, Libye, Yémen, Bahrein, les régimes totalitaires tombent les uns après les autres. Certains parlent d'un printemps des révolutions, d'autres évoquent un printemps Arabe. Pour la Tunisie, il s'agissait de la "révolution du Jasmin", pour l'Egypte de la "révolution du Nil". Pour chaque pays , un lieu ou un homme devient le symbole de la liberté retrouvée. Pour la Tunisie, ce fut Mohamed Bouazizi, pour l'Egypte la place Tahir . Il s'agit à chaque fois de mettre l'accent sur ce qui fait la caractéristique principale de ces mouvements politiques. Ils sont populaires, l'expression de tout un peuple aspirant à un idéal démocratique.
Toute une énergie a traversé ces différents pays, une volonté farouche a animé ces peuples pour parvenir à renverser des régimes autoritaires et aboutir à des régimes démocratiques.
Que pouvait-on lire sur les pancartes que brandissaient ces hommes et ces femmes dans ces différentes manifestations ? "Liberté", "démocratie", "justice", "Ben ali dégage" ou "Moubarak out".
Dans cette nouvelle installation, le plasticien casque bleu Effer Lecebe a souhaité cristalliser cette énergie symbolisée par la jeunesse - ces jeunesses brandissant pancartes, écriteaux, affiches et slogans sont encore pour le moment en attente d'une concrétisation politique.
Ce travail a pour objet d' identifier ce formidable espoir suscité par ces révolutions mais également la crainte de voir ces mouvements ne pas trouver l' issue politique souhaitée. Ce moment à la fois de grâce et d'incertitude, est comme en suspension entre le sol et l'avenir ; il est le temps de tous les possibles, vibrant de fragilité et d'intensité réunies.
In Arab countries, Tunisia, Egypt, Libya, Yemen, Bahrain, totalitarian regimes fell one after another. Some speak of a "springtime of revolutions", others suggest an "Arab spring". For Tunisia, it was the "revolution of Jasmine" to Egypt of the "revolution of the Nile". For each country, a place where a man becomes a symbol of newfound freedom. For Tunisia, it was Mohamed Bouazizi, to Egypt the Tahir square. This is each time to focus on what makes the main feature of these political movements. They are popular, the expression of a people aspiring to a democratic ideal.
All energy has passed through these countries, a fierce determination led these people to come to overthrow authoritarian regimes and lead to democratic regimes.
What could be read on the placards brandished that these men and women in these different events? "Freedom," "democracy," "justice", "Ben Ali released" or "out Mubarak."

In this new installation, the artist peacekeeper Effer Lecebe wished crystallize the energy symbolized by the youth - these youths brandishing banners, placards, posters and slogans are still currently waiting for a political realization.
This work aims to identify the great hopes raised by these revolutions but also the fear that these movements do not find the desired policy outcome. This time both of grace and uncertainty, as is suspended between the floor and the future and it is time to every possibility, vibrant fragility and intensity together.

Suspension démocratique (projet-concept d'Effer Lecébé)
Dans ce projet d'installation ( dessin ci-dessus) un large filet suspendu sur toute la superficie du plafond ou d'une trémie, contient en son sein des pancartes et des écriteaux provenant des différentes manifestations dans le monde arabe. Au sol, une simple table sur laquelle se trouve une urne. L'impression d'une volonté, d'iune energie contenue attendant une transformation politique doit être ressentie par la tension exercée par le poids des pancartes dans un filet prêt à craquer . La question que pose cette installation est l'issue réservée à cette attente qui s'il n'est pas satisfaite ou encouragée peut donner lieu à une catastrophe.
Installation Project ( Democratical Suspension , February 2011
In this installation project (picture above), a large net suspended on the ceiling areaorhopper, contains within placards and signs from various events in the Arab world.
On the ground, a simple table on which there is a ballot box.
The impression of a will, energy contained waiting for political change must be felt bythe tension exerted by the weight of signs in a net ready to crack. Thequestionconsidered by this installation is the outcome of this expectation that if notsatisfied or encouraged may lead to disaster.