KADHAFI FASHION WEEK
Sans nul doute, le colonel Mouammar kadhafi vit ses derniers jours en tant que " Guide suprême" de la nation libyenne. Il va sans dire que certains esprits créatifs mettent à profit l'actualité . Le plasticien casque bleu , Effer Lecébé en collaboration avec la maison de couture Pias ont signé une ligne de vétements appelé " K. " Connaissant le goût immodéré du colonel Kadhafi pour les coiffes et les vêtements, nous ne doutons pas de l'intérêt de ce dernier pour cette nouvelle ligne vestimentaire .D'ailleurs le Président israélien Shimon Peres a déclaré au sujet du dictateur, qu'il le verrait bien prendre la succession de Galliano à la tête de la maison Dior.
Effer Lecébé a déclaré à ce propos " Cette ligne de vêtement a pour thème, la luxure, le gôut pour la fête et le sexe, il s'inscrit ouvertement comme un vêtement jeune ", il est une manière de célébrer surtout la victoire de la révolution sur ces dictateurs sanguinaires.
Les différents modèles dessinés ont été confectionné dans le même tissu que la tente du guide suprême. Dans l'appropriation du tissu de la tente du dictateur, il y a un geste révolutionnaire et libérateur. Jugez plutôt .
Undoubtedly, Colonel Muammar Gaddafi lives in recent days as the "Supreme Guide" of the Libyan nation. It goes without saying that some creative minds to bring benefit to the news business. The French artist Effer Lecébé in collaboration with fashion house Pias signed a clothing line called "Zanga Zanga."Effer Lecébé said about it "This clothing line has as its theme, lust, the taste for partying and sex, it fits like a garment young openly", it is mainly a way of celebrating the victory of revolution on these dictators.
Differents models were designed Baked in the same fabric as the tent of the Supreme Leader. Judge for yourself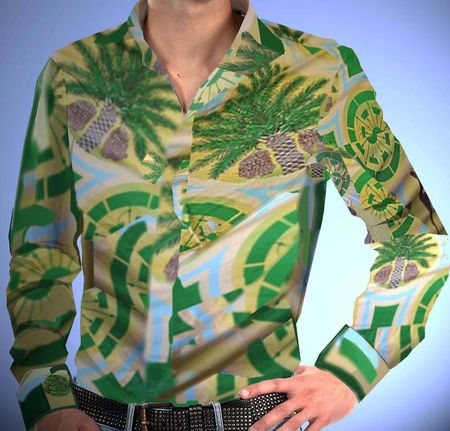 "zanga zanga". effer lecebe copyright