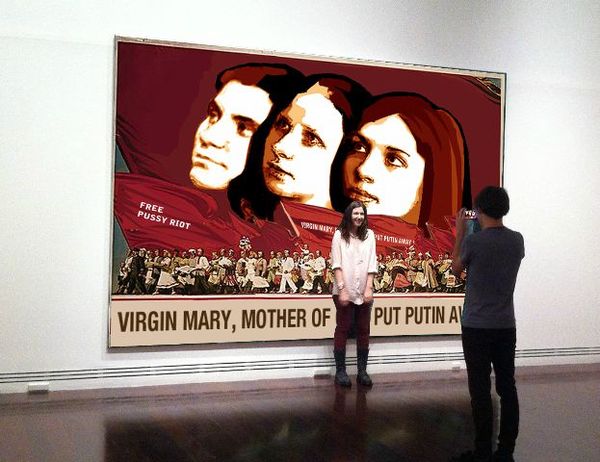 EXPOSITION PUSSY RIOT, en soutien aux PUSSY RIOT, Centre d'art contemporain de Paris, du 18 au 26 août 2012,
PUSSY RIOT EXHIBITION, in support of PUSSY RIOT, Centre d'art contemporain in Paris, from 18 to 26 August 2012
Entrée libre, free admission
Un collectif d'artistes constitué à l'initiative du plasticien casque bleu Effer Lecebe a décide de s'interposer plastiquement, prenant fait et cause pour le groupe "Pussy Riot". Une exposition a lieu à partir de ce soir, Samedi 18 aout 2012 au centre d'art contemporain de Paris.

Ainsi l'artiste flamande Stella Grapp a réalisé une installation intitulée "Poupées russes" : se trouvent posées sur le sol trois poupées gigognes à l'effigie des trois chanteuses du groupe, dotées d'un magnétophone diffusant la chanson incriminée à faible volume ; elles sont surplombbées par une gigantesque poupée russe de Vladimir Poutine menaçant de les recouvrir toutes.
L'artiste suisse Frank Patter a quant à lui opté pour la photographie : dans l'un de ses travaux, Vladimir Poutine apparaît vieillisant : derrière lui, deux mains sur les tenants de son fauteuil roulant.
Sur la photographie ci-dessus, le plasticien casque bleu Effer Lecébé détourne l'esthétique soviétique , remplaçant les figures mythiques de Marx, Engels et Lénine par les trois visages des Pussy Riot ; il rappelle ainsi tant la politqiue liberticide du régime soviétique que celle de Vladimir Poutine et le caractère démesuré de la condamnation infligée aux trois jeunes interprètes.
A group of artists formed at the initiative of the artist peacekeeper Effer Lecebe has decided to intervene plastically taking up for the cause of the group "Pussy Riot". An exhibition occurs from tonight, Saturday, August 18, 2012 at the Center of contemporary art in Paris.
Thus the Flemish artist Stella Grapp created an installation entitled "Russian Dolls" : three nesting dolls in the likeness of the three singers of the group are located on the ground, with a tape broadcasting the offending song at low volume ; a gigantic doll Russian President Vladimir Putin overhangs, threatening to cover them all.
The Swiss artist Frank Patters has meanwhile opted for photography: in one of his works, Putin appears old : behind him, both hands on his wheelchair.
In the photograph above, the artist peacekeeper Effer Lecébé diverts Soviet aesthetic, replacing the mythical figures of Marx, Engels and Lenin by the three faces of Pussy Riot and recalls as well the draconian politics of the Soviet regime as of Vladimir Putin and the disproportionate nature of the sentence imposed for the three young performers.