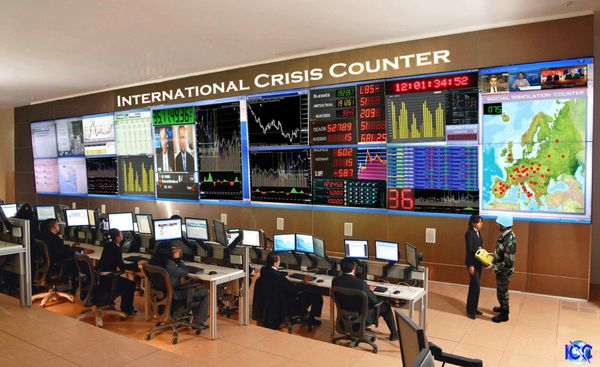 "La création par un collège d'experts internationaux de la cellule de veille de la crise financière et économique mondiale est une avancée majeure de la décennie" dixit l'économiste Prix Nobel Américain Joseph Stiglitz.
L'I.C.C a pour vocation d 'établir en temps réel le cout de la crise économique et financière sur l'ensemble des Etats de la planète en tenant compte de nouveaux paramètres jusqu'alors laissés pour compte. Ainsi le côut social par le biais du nombre de chômeurs , du nombre d'hospitalisés pour des raisons de détresse sociale mais aussi de la montée de la violence, des divorces, des suicides et des émeutes sociales. Une carte des immolations en Europe a vu le jour et dès lors tout un chacun est libre de mesurer le cout social de la crise financière sur les peuples .
Effer Lecebe qui est à l initiative du projet I.C.C a déclaré:" Le cout social devient un moteur de la crise économique ,des industries s' enrichissent avec la crise financière,.... depuis bien longtemps les secteurs de l'armement et de l' industrie pharmaceutique n'avaient connu pareil essor ."

"The creation by of a college of international experts of the global financial and economic crisis watch unit is a major advance in the decade" according to the American Nobel economist Joseph Stiglitz .
The ICC aims to establish real-time cost of the financial and economic crisis in all countries of the world, taking into account new parameters previously neglected. Thus the social cost through the number of unemployed, the number of hospitalized for reasons of social distress but also the rise of violence, divorces, suicides and social riots. A map of immolations in Europe has emerged and therefore everyone is free to measure the social cost of the financial crisis onthe peoples.
Effer Lecebe which is at the initiative of the project I.C.C said: "The social cost becomes a driving force of the economic crisis, and the financial crisis has seen the rich get richer ... for a long time, the weapons and pharmaceutical industries had not experienced such an economic boom"