---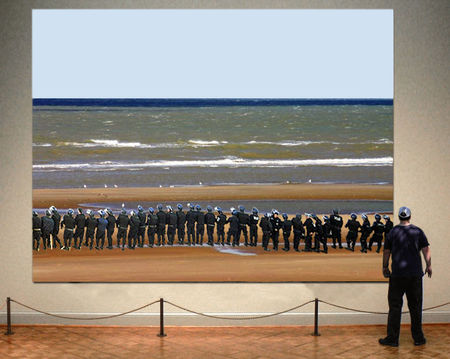 "Ben Ali has gone" , Effer Lecébé
Photo numérique, 340 * 540 cm - contre-collé sur aluminium
Centre d'art contemporain, Bruxelles
Dans ce travail, les anciennes forces de sécurité semblent avoir perdu le sens de l'orientation et vaciller, emplies de leur vacuité. Cherchent-elles de nouvelles consignes, de nouveaux ordres, ou tentent-elles de fuir cette nouvelle configuration politique ?
La dimension romantique exprimée par Caspar David Friedrich, présentant l'homme de dos face à l'immensité, est revisitée par Effer Lecébé. Comme la mer exprime une limite infranchissable ou le dépassement potentiel, la démocratie pose une nouvelle ligne d'horizon : ligne toute tracée et servitude face au pouvoir policier ou bien incertitude mais choix de la liberté
"Ben Ali has gone"
Digital photography, 340 * 540 cm cons-bonded aluminum
Contemporary Art Centre, Brussels
In this work, the old security forces seem to have lost the sense of orientation, filled by their emptiness. Are they seeking new orders, or do they try to escape from this new political configuration ?
The romantic dimension expressed by Caspar David Friedrich, with the man back, facing the immensity, is revisited by Effer Lecébé. As the sea expresses an impossible limit or personal achievement, democracy poses a new horizon: any fixed line and constraint to police power or uncertainty, but freedom of choice.