Effer Lecébé est un personnage hybride, casque bleu et plasticien.
Il est l'émergence d'une identité nouvelle, renommant et assimilant l'essence et le statut.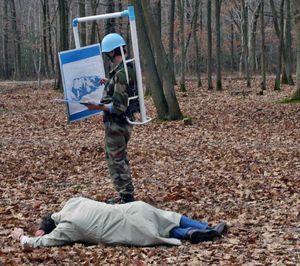 La question du rapport action / observation engendre ici une problématique plastique.
EFFER exprime la position de l'artiste au monde : face au monde et dans le monde.
Sa production plastique renvoie à une expérience visuelle critique.
- Le recours à la peinture, au collage, à la photographie et à la vidéo suppose une démarche de dé-cadrage et de re-cadrage tant du sujet que de l'objet.
Le matériau filmique intègre une modulation temporelle de l'image photographique et du recours même à la peinture. Il photographie l'acte de peindre et peint la déformation du monde.
Les réagencements sériels de formes et d'informations relient le geste de l'artiste à la question de la distance et de la proximité du monde.
- Il reformule ainsi le monde à son idée jusqu à la déformation physique et la reformulation conceptuelle.
Il inscrit son travail dans l'histoire de l'art ( le transept, les yeux issus de tableaux célèbres … ) et s'inscrit dès lors lui-même dans l'histoire du monde, humaine et politique .
Verticalité et horizontalité sont repensées et donnent à repenser le monde.
- L'événement s'incarne dans le personnage, les visages passant du réel à une abstraction existentielle. Le « réel » est ainsi « fictionné » (Jacques Rancière) ; l'événement est repensé par une construction géométrique humaine.
Effer lecébé a conceptualisé les principes d' "interposition plastique" , "d' 'interposition critique" " et "d'interposition culturelle" .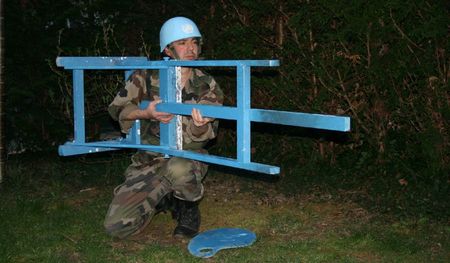 Effer Lecébé is a hybrid character, artist and peacekeeper.
It is the emergence of a new identity, renaming and assimilating the essence and status.
The question of the action / observation creates an artistic issue.
EFFER expresses the position of the artist in the world and facing the world.
Artistic production refers to a critical visual experience.
- The use of painting, collage, photography and video requires a process of de-framing and re-framing of the subject as well as the object.
The film material includes a temporal modulation of the photographic image and of the painting. He photographes the act of painting and paints the deformation of the world.
The rearrangements in serial forms and information link the gesture of the artist to the issue of distance and proximity of the world.
- He reformulates the world on his own idea up to the physical distortion and conceptual reformulation.
His work has converse with art history (the transept, the eyes of famous paintings...) and lies therefore itself in world human and political history. Verticality and horizontality are redesigned and give to rethink the world.
- The event embodied in the character, real faces coming to existential abstraction. The "real" becomes "fiction" (Jacques Rancière), the event is redesigned by a geometric human construction.
Effer

lecébé

conceptualized

the principles

of " artistic

interposition

", "

critical

interposition

" and " cultural

interposition

. "