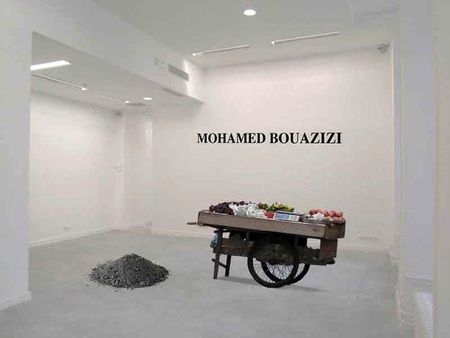 click on the image
À Sidi Bouzid, capitale agricole située au coeur de la Tunisie, un vendeur de fruits et légumes, Mohamed Bouazizi, 26 ans, s'était immolé par le feu le 17 décembre avant de décéder le 4 janvier. Son geste de désespoir a provoqué une vague de contestation et de manifestations contre le chômage et la cherté de la vie sans précédent depuis vingt ans dans tout le pays.Depuis la mi- décembre, plusieurs autres cas de suicides ont été signalés. Samedi, la ville de Metlaoui, dans la région minière de Gafsa, enterrait un jeune qui s'était également immolé par le feu.
Le casque bleu plasticien eff er Lecébé a décidé de rendre hommage à cet homme qui est devenu dans le monde entier et plus particulièrement dans les pays du Maghreb, le symbole de la liberté et des droits de l'Homme.
Est exposé depuis le 22 janvier 2011, une installation composée d'un étal et d'un tas de cendres. Les fruits et les légumes sont offerts aux visiteurs.Chaque jour à l'identique, le chargement est renouvelé à 19h15, heure du décès de Mohamed Bouazizi
CONTEMPORARYART : A TRIBUTE TO MOHAMED BOUAZIZI
At Sidi Bouzid, ag ricultural capital in the heart of Tunisia, a seller of fruits and vegetables, Mohamed Bouazizi, 26, was slain by fire on December 17 before dying on January 4. His gesture of despair caused a wave of protests and demonstrations against unemployment and the high cost of living unprecedented twenty years through out the country. After mid-December, several other cases of suicides were reported. Saturday, the city of Metlaoui in the mining region of Gafsa, burying a young man who had also set himself on fire.
The peacekeeper artistEfferLecébédecidedtohonorthis manwhohas become in the worldand particularlyintheMaghreb, thesymboloffreedomandhumanrights.IsexposedsinceJanuary 22, 2011,an installation designed byEfferLecébé, consistingofastallandapile ofashes.
Fruitsandvegetablesareofferedtovisitors.Everydaythesame,theloadisrenewedat 19.15 , time of thedeath
of Mohamed Bouazizi.
Exhibitionat thecenterofcontemporary art.Free admission.